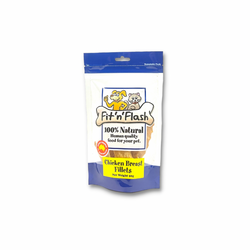 Fit and Flash Treats - Chicken 50g
Made with human grade export meat, and containing a very low fat content of only 1%.
Kangaroos live in the wild, and their diet consists of all natural greenery, with no chemical fertalisers or sprays.
The flavour is gamey, which animals love.
Fit'n'Flash Pet Treats use only 100% natural human grade meat in all their products. They are a great high protein, low fat snack for any size dog or cat.
No additives, preservatives, flavours or colours are used in the Fit'n'Flash products. Nothing at all is added - they are 100% natural and Made in Australia.
The Chicken and Lamb products are ideal for puppy training treats (because they taste great and are soft on the mouth) and are used at many puppy schools throughout the country.
The Chicken, Kangaroo, Venison and Fish products are all very low in fat (below 4.5%) which makes them ideal for dogs with pancreatitis problems or skin ailments.