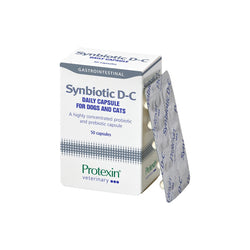 Synbiotic D-C (Protexin) -10 tablets per order
A highly concentrated probiotic and prebiotic capsule. Synbiotic D-C contains:
• Probiotics
The EU-registered probiotic Enterococcus faecium (DSM 10663/ NCIMB 10415) 4b1707, to help repopulate the intestine with beneficial micro-organisms.
• Preplex prebiotics
A prebiotic, consisting of fructo-oligosaccharide (FOS) and acacia (Gum arabic), to feed and stimulate the growth of beneficial bacteria.
Directions: Give one capsule daily by mouth or as advised by your veterinary surgeon. Capsules can be given whole or opened and the contents sprinkled onto food.