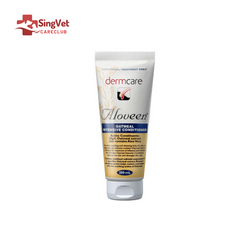 Aloveen Conditioner (200ml)
SingVet CareClub Price : $20.90
Save $1.10 (5% off)
Aloveen Oatmeal Shampoo and Aloveen Oatmeal Intensive Conditioner are formulated with extracts of oatmeal in an aloe vera gel base. Aloveen's emollient action helps restore coat lustre, with a soothing action of oatmeal.

Indications for use:

Aloveen's soothing properties are derived from the anti-itch effects of oatmeal. It is suitable for use in dogs and cats:

Dry, itchy skin that is free from infection
Mildly inflamed skin
Sensitive skin
Atopic dermatitis
Contact dermatitis
Directions for using Aloveen Oatmeal Conditioner: 

Apply after bath
Apply Aloveen Oatmeal Intensive Conditioner lightly to the coat at several points
Massage into coat gently
Can be rinsed lightly or used as a leave on conditioner
Gently dry and brush the coat as normal.