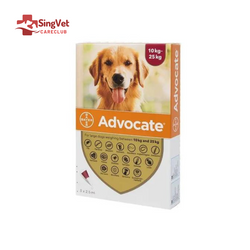 Advocate Dog Spot-On (10kg to 25kg) Large - Box of 3
SingVet CareClub Price : $45.88
Save $11.47 (20% off)
Advocate protects dogs inside and out. Providing comprehensive protection from fleas, heartworm, intestinal worms, lungworms, ear mites and feline mange mites. An easy to use spot-on applied monthly.
No need to bite with Advocate
The ingredients in Advocate provide fast relief from fleas. With its "No Need to Bite" mode of action, Advocate kills fleas on contact; they don't have to bite your dog to be killed which means more relief for your dog. Existing fleas are killed within 12 hours, and after this time re-infesting fleas are killed within 1 hour. The active ingredient, imidacloprid, is shed with the natural shedding of your dog's skin and fur, killing flea larvae in the environment and breaking the flea lifecycle.  
Advocate flea, heartworm and worm treatment for dogs is for external use only on dogs and puppies from 7 weeks of age. 
Pre-order is required.