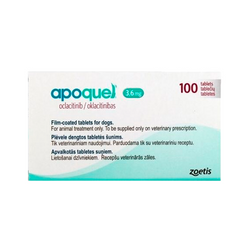 Singvet
Apoquel 3.6mg - price per tablet
Current batch is expiring in August 2023.
Tablets for dogs are for the control of itching associated with allergic and atopic dermatitis. It works to control the enzymes involved in allergenic reactions and provides relief within 4 hours of consumption.
Directions: As directed by your Veterinary Surgeon
This product requires a Veterinary prescription. 
If your pet has been seen at SingVet, a staff will go through your account to see if the requested item has been approved for sale. If your pet has not been seen at SingVet, an original copy of the prescription is required. This has to be presented before the order can be confirmed. Alternatively, you can contact your Veterinarian to email a prescription to SVEdispensary@gmail.com. Most clinics are able to send a prescription over to SingVet.
Please visit our FAQ.
.