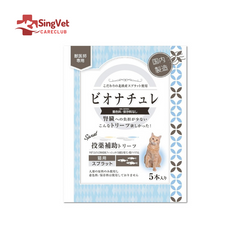 Bionature Medicine Assist (50g) - Sprat
SingVet CareClub Price : $11.03
Save $0.58 (5% off)
BioNature is 100% natural made with premium human grade ingredients

Only natural flavoring and 'real ingredients' like wild caught fish and essential fish oils.
No preservatives, artificial flavoring, or coloring agents.
Non-GMO, gluten free and grain free.
Suitable for cats with kidney disease, heart disease and urinary stones.
Low in phosphorus and sodium.
Low levels of phosphorus, calcium and magnesium and also pH 6.6.
High Calorie is recommended in cases of 
Loss of appetite
After surgery
Recovering from sickness

Medicine Assist is recommended to be used when administering medication to cats.
This is thicker in consistency vs High Calorie.