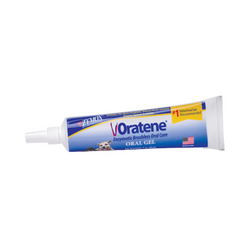 Oratene Enzymatic Oral Gel (1oz)
Oratene Veterinary Enzymatic Oral Gel (1 oz) contains an enzyme formula to aid the treatment of severe oral infections such as stomatitis, gingivitis, red inflamed gums and ulcerations and periodontal disease. The Three Point Enzyme System used in this product has been shown to be antifungal, antibacterial and antiviral. It also helps to dissolve plaque biofilm and inhibit bacteria that cause bad breath.
Ingredients: Polyglycitol, Glyceryl Polymethacrylate, Sorbitol, Hydroxyethyl, Cellulose, Dextrose, Potassium Iodide, Aloe Vera, Mutanase, Lactoperoxidase, Lactoferrin, Lysozyme, Glucose Oxidase, Dextranase.
Directions: Apply a ½ strip of oral gel to upper and lower gums twice daily for 5-7 days or until infection subsites. Or as directed by your Veterinary Surgeon.