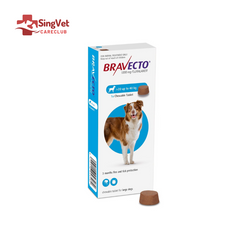 Bravecto Dog Single Tablet 1000mg (20 to 40kg)
SingVet CareClub Price : $52.88
Save $9.33 (15% off)
BRAVECTO (fluralaner) is the only oral flea and tick treatment that lasts 12 weeks with 1 convenient chew. The long-lasting protection of Bravecto effectively eliminates flea infestations on pets with just 1 dose. Plus, Bravecto kills ticks faster – killing 100% of attached ticks in 12 hours.

Bravecto is effective against :

Fleas (Ctenocephalides felis)
Castor bean tick (Ixodes Ricinus)
Black-legged ticks (Ixodes scapularis)
American Dog tick (Dermacentor variabilis)
Lone Star tick (Amblyomma americanum)
Brown Dog tick (Rhipicephalus Sanguineus)
Presented in a highly palatable flavoured chew that dogs accept readily. Use only in dogs and puppies 6 months of age and older, weighing 4.4lbs (2kg) of body weight or greater.

Size : 1 tablet
Ingredients: Each Bravecto chew is formulated to provide a minimum Fluralaner dosage of 25mg/kg (11.4mg/lb).

Directions : For dogs within the weight range listed on the product. Give 1 tablet orally as a single dose once every 12 weeks. Give with food. Refer to label insert before use. Or as directed by your Veterinary Surgeon.
Pre-order required.