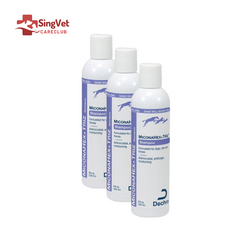 Bundle : 3 bottles of Miconahex + Triz Shampoo (236ml)
SingVet CareClub Price : $103.95
Save $11.52 (10% off)
Please note that this product is only for clients who signed up for CareClub.
Dechra Miconahex Triz Shampoo is an antimicrobial, antifungal and moisturizing shampoo.

Formulated for cats and dogs
Miconazole and chlorhexidine aid in the treatment of moderate to severe fungal and/or bacterial skin infections
Potentiated with the antibacterial activity of TrizEDTA
Epidermal barrier repair therapy with the addition of ceramides which moisturizes, repairs and restores dry, damaged skin.
Active Ingredients: CoAntains 2% miconazole and 2% chlorhexidine, TrizEDTA, and ceramides
Also contains: Water, Lauramine Oxide, Lactic Acid, Cocamidopropyl Betaine, Decyl Glucoside, Polyacrylate-1 Crosspolymer, Lavandula Angustifolia (Lavender) Oil, Cymbopogon Flexuosus (Lemongrass) Oil, Methylchloroisothiazolinone, Methylisothiazolinone
Directions for Use: As labelled or directed by your Veterinary Surgeon.
Caution: For topical use only. Avoid contact with eyes. If skin irritation develops or increases, stop use and call your veterinarian. Keep out of the reach of children and pets. Wash hands after use.