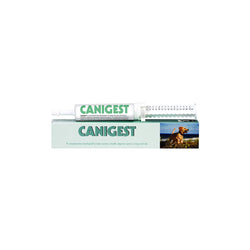 Canigest Antidiarrhoeal Syringe Paste (30ml)
Canigest is a paste for pets with digestive tract upsets such as diarrhea.
Ingredients: Rapeseed OIl, Kaolin, Fructo, Oligosaccharides, Mannan Oligosaccharides, Pectin, Glutamine, Roast Meat Flavouring, Enterococcus Faecium.

Directions: Can be administered directly into the pets mouth for up to 5 days or as directed by your Veterinary surgeon.

• Puppies and Cats: Feed 1-2ml 2-3 times a day
• Adult Dogs: Feed 2-5ml 2-3 times a day.