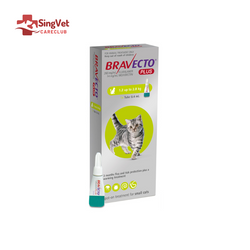 Bravecto Plus Cat Spot-On (1.2kg to 2.8kg)
SingVet CareClub Price : $54.74
Save $13.69 (20% off)
BRAVECTO® PLUS for cats is the easy, 2-month solution for fleas, ticks, heartworm and intestinal parasites that lasts twice as long as monthly products. The topical treatment is also effective in treating ear mites. It provides immediate relief from fleas and ticks and provides protection for 10 whole weeks by breaking the flea life cycle before they lay eggs. In addition, it is also used as a treatment strategy for flea allergy dermatitis (FAD). Bravecto Plus also eliminates all stages of roundworms and hookworms and at the same time protects cats against heartworms for 8 weeks.
Use only in cats and kittens 9 weeks of age and older, weighing 4.4lbs (1.2kg) of body weight or greater.

Size : 1 pipette 

Ingredients : Each Bravecto Plus Spot-On is formulated with Fluralaner and Moxidectin.

Directions : For cats within the weight range listed on the product. Bravecto Plus comes in a clever TWIST´N´USE tube with a non-removable cap, it is simple and convenient to apply. Refer to label insert before use. Or as directed by your Veterinary Surgeon.