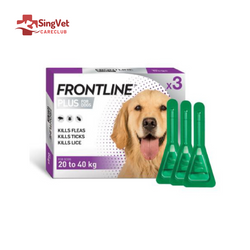 Frontline Plus Dog Spot-On (20-40kg) Large - Box of 3
SingVet CareClub Price : $59.94
Save $19.98 (25% off)
Just one dose of FRONTLINE Plus kills fleas and ticks. Made with 2 tough killing ingredients, fipronil and (S)-methoprene, it does not just kill adult fleas and ticks but also slays the next generation of flea eggs and larvae.
Kills adult fleas, flea eggs & larvae, ticks and chewing lice.
Prevents all flea stages (eggs, larvae, pupae) from developing
Provides waterproof effectiveness
Works non-stop for a full 30 days
Do not use for puppies and kittens less than 8 weeks old.

Directions: As labelled or directed by your Veterinary Surgeon
Pre-order is required.