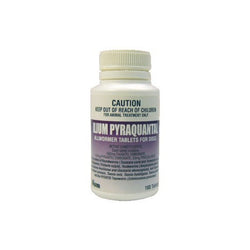 Iliium Pyranquantel Dewormer for Dogs - 1 tablet per order
For the control of Roundworms (Toxocara canis and Toxocara Ieonina), Whipworms (Trichuris vulpis), Hookworms (Ancylostoma caninum, Ancylostoma braziliense and Uncinaria stencephala), and Tapeworms (Dipylidium caninum, Taenia ovis, Taenia hydatigena, Taenia pisiformis) and the Hydatid Tapeworm (Echinococcus granulosus) in dogs.
Directions for use
Weigh dog before treatment. Fasting is not necessary. One tablet per 10kg bodyweight. Dosing should be rounded up to the nearest quarter tablet. Use the following as a guide
Bodyweight Tablet
1.2 - 2.5kg ¼ tablet
2.6 - 5.0kg ½ tablet
5.1 - 10.0kg 1 tablet
Over 10kg 1 tablet for every 10kg
Frequency
Hydatid Tapeworm: Treat every 6 weeks.
Other tapeworms: Treat every 3 months and treat dog regularly for fleas.
Roundworms and hookworms: Treat at 2, 4, 8, and 12 weeks of age and thereafter every 3 months.
Whipworms: Treat every 6-8 weeks after 3 months of age.
Pregnant and lactating bitches: Treat prior to mating, 10 days before and 4 weeks after whelping
Each tablet contains: Oxantel Embonate 542mg, Pyrantel Embonate 143mg, Praziquantel 50mg.
Store below 30ºC (room temperature). Protect from moisture.