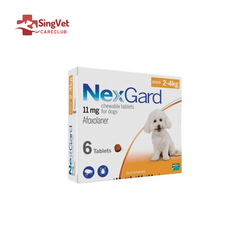 Nexgard Flavour Chew (2 to 4kg) Orange - Box of 6
SingVet CareClub Price : $61.24
Save $20.41 (25% off)
NexGard is the first and only soft, beef-flavoured chew that kills both fleas and ticks. Combining a revolutionary active ingredient with an innovative form. NexGard is indicated for the treatment and prevention of

Fleas (Ctenocephalides felix)
Black-legged ticks (Ixodes scapularis)
American Dog tick (Dermacentor variabilis)
Lone Star tick (Amblyomma americanum)
Brown Dog tick (Rhipicephalus Sanguineus)
Use in dogs and puppies 8 weeks of age and older, weighing 4lbs (1.8kg) of body weight or greater.

Size: 6 tablets

Ingredients: Each NexGard chew is formulated to provide a minimum Afoxolaner dosage of 2.5mg/kg (1.14mg/lb).

Directions: For dogs within the weight range listed on the product. Give 1 tablet once a month. Most dogs readily take the palatable chew, so there is no need to hide it in the food. Do NOT use in cats. Refer to label insert before use.