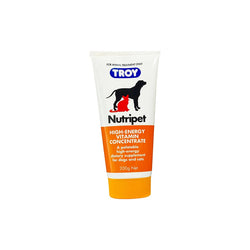 Nutripet High-Energy Vitamin Concentrate 200g
A highly palatable source of calorie and vitamin supplementation recommended for pets. It can also be used to coat pills for pets who are reluctant to eat their medication.
Ingredients
Vitamins A, D, E, B1, B2, B6, B12, Nicotinamide, Calcium Pantothenate, Folic Acid, Iron, Manganese, Magnesium, and Iodine in a palatable base consisting of fats, proteins, and carbohydrates providing approximately 1500 kilojoules of metabolizable energy per 100g.
Directions: As labelled or directed by your Veterinary Surgeon.