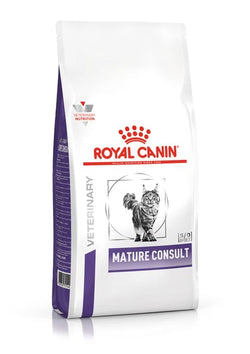 Royal Canin Cat Mature Consult (Senior) 1.5kg
RC develops tailor-made nutritional programs designed to provide the best suited response to cats' specific needs.
AGE SUPPORT
A selection of nutrients which meets the nutritional needs of ageing cats. Enriched with green-lipped mussel. Reduced phosphorus content.
MAINTAIN IDEAL WEIGHT
Adequate formula and daily rations to help maintain ideal weight in ageing cats.
Pre-order required
This product requires a Veterinary prescription. 
If your pet has been seen at SingVet, a staff will go through your account to see if the requested item has been approved for sale. If your pet has not been seen at SingVet, an original copy of the prescription is required. This has to be presented before the order can be confirmed. Alternatively, you can contact your Veterinarian to email a prescription to SVEdispensary@gmail.com. Most clinics are able to send a prescription over to SingVet.
Please visit our FAQ.