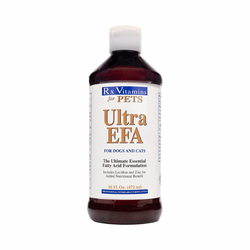 Rx Vitamins Ultra EFA Fatty Acid Supplement containing Omega 3 (16oz)
The Ultimate Fatty Acid Formulation
A highly potent fatty acid blend featuring a high-grade marine lipid concentrate rich in the Omega 3 constituents EPA and DHA.
Product Facts: Marine Lipid Concentrate 3000 mg Supplying: Eicosapentaenoic Acid (EPA) 540 mg, Docosahexaenoic Acid (DHA) 360 mg, Lecithin 1265 mg (supplying 304 mg phosphatidylcholine and 240 mg phosphatidylinositol), Zinc (as gluconate) 2.3 mg, Rosemary Extract (as an antioxidant and preservative) 2.3 mg, Biotin 23 mcg, Vitamin E (tocopherol acetate) 45 IU

An examination from a veterinarian is recommended prior to using this product.

Directions: One teaspoon for each 15 lbs. of body weight twice daily. Dosage may be modified as per your veterinarian.