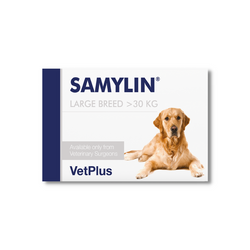 Samylin Liver Supplement Tablet (>30kg) - price per tablet
VetPlus SAMYLIN ®Liver Supplement for Dog > 30kg

This is a specialty supplement specific for patients with liver issues. Regular reviews should be carried out with your veterinarian to check on liver function.

SAMYLIN ® has a unique formulation which promotes optimal liver health. Provided in a complete range of breed-size specific tablets, its unique ingredients help to aid liver function and neutralize free radicals.

Features:
S-adenosyl L-methionine (SAMe) – the S,S-SAMe isomer is included in Samylin, which is the active form and is integral to correct hepatic function. It is enteric coated in Samylin to ensure stability and bioavailability
Silybin – the most active molecule found in milk thistle extract. The Silybin in Samylin is conjugated with phosphatidylcholine, which increases its bioavailability, facilitating its actions as a free radical scavenger in the liver
Vitamin E – a very potent antioxidant and lipid soluble vitamin, which can support the function of hepatocytes from within the lipid soluble environment of the cell membranes
Indication: For the support of liver insufficiencies
Active Ingredients: SAMe, Silybin, Vitamin E
Pre-order is required.