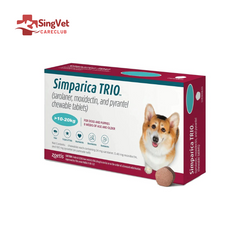 SingVet Animal Clinic
Simparica Trio Tablet (10.1 to 20kg) Blue- Box of 3
SingVet CareClub Price : $67.72
Save $3.56 (5% off)
Simparica Trio is the first monthly chewable to protect your dog with three proven ingredients designed for defense.
Protects dogs against heartworm disease, ticks & fleas, roundworms & hookworms.
Demonstrated safe for puppies as young as 8 weeks old, weighing at least 2.8 lbs.
FDA-approved and available with a vet's prescription.
There are 3 tablets in 1 box.
This product requires a Veterinary prescription. 
If your pet has been seen at SingVet, a staff will go through your account to see if the requested item has been approved for sale. If your pet has not been seen at SingVet, an original copy of the prescription is required. This has to be presented before the order can be confirmed. Alternatively, you can contact your Veterinarian to email a prescription to SVEdispensary@gmail.com. Most clinics are able to send a prescription over to SingVet.
Please visit our FAQ.