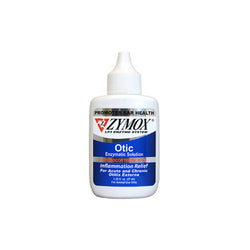 Singvet
Zymox otic -HC with hydrocortisone
Contains a patented combination of enzymes to aid in removing ear exudate and maintaining ear health. ZYMOX® Ear Solution makes caring for a pet's ears easy and fear-free with reduced touching of sensitive ears. For use on any age dog, cat, exotic, as well as those that are pregnant or lactating. Uses • Removal of ear exudate • Promotes healthy ears • Safe for all dogs, cats, small animals, exotics • For pets who swim • Pets who live in moist or hot environments Ingredient: Benzyl Alcohol, Dextrose, Glucose Oxidase, Glycerin, Hydroxypropyl Cellulose, Lactoferrin, Lactoperoxidase, Lysozyme, Potassium Iodide, Propylene Glycol, Purified Water.
Directions: As labelled or directed by your Veterinary Surgeon.
This product requires a Veterinary prescription. 
If your pet has been seen at SingVet, a staff will go through your account to see if the requested item has been approved for sale. If your pet has not been seen at SingVet, an original copy of the prescription is required. This has to be presented before the order can be confirmed. Alternatively, you can contact your Veterinarian to email a prescription to SVEdispensary@gmail.com. Most clinics are able to send a prescription over to SingVet.
Please visit our FAQ.